So I've been slacking. This is in part due to work, preparing to head out for the last wedding, and having to cope without Abbey (Only for a few days due to the wedding). So I'm going to do a little housekeeping:
I'm 29!
I turned 29 last Wednesday. Celebrating my birthday isn't something I put much effort and energy into. This year was a little bittersweet because I normally spend the day with my rents, but they're on different continents living their best life at the moment. They're the ones who spearhead the shenanigans, otherwise, I probably wouldn't bother, ha! I'm not a huge birthday person and haven't been since I was 11. But since I didn't want to be a complete abstainer, I did get a small cake and a mimosa for good measure. See mom, I did something! I did have fun though. Abbey and I went on a trail, hung out by the water, and just relaxed (and worked a bunch).
Lions and tigers and bears, oh my!
My nightly routine usually involves chilling in the jacuzzi and listening to some tunes. The townhouse that I'm renting has the perfect blend of "cabin-feels" without the cabin maintenance– I love it!
Anyway, I was outside and I had happened to take out my contacts because they were irritating me. As I was adjusting the temperature of the jacuzzi, I looked up and like eight feet in front of the gate, I saw a dark blob on the grass next to the fruit tree that generally isn't there. I thought to myself, "huh, that blob isn't usually there,". I squinted to get a better look and the blob moved! It grabbed a piece of fruit, and that's when I realized, it was a FREAKING BEAR!!!!
You'd think that would run back inside and wait for it to pass on by but noooo… like the village idiot that dies in dinosaur/crazy animal films, I went inside to grab my camera and take photos of it. Fortunately, when I came back outside, it was further away, so my idiot self felt even more confident. As I was snapping away (with my flash on, like a genius), I guess the flash annoyed it as it made a fake charge motion towards me. Needless to say, I was pretty scared, but I was literally a step away from my door, so I squealed and ran back inside.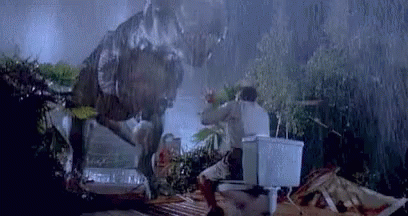 There's nothing like a little bear lunge to get the adrenaline running. As I said, it wasn't super close, but close enough for me to rethink my bravery level. So, my takeaway is, if I can snap photos of a hungry bear, I can handle anything. That, and I'm likely the first person to die during an "animal on the loose" type of situation. 😉
I told my brother and my parents and they all said "So that's why Big Bear is named that", ha! Leave it to my family to be more excited to see the bear than disturbed by the fact that I was dumb enough to stick around for a photo shoot. Perhaps that's why they're my family, haha! Enjoy some shoddy quality bear photos!